Organization of your wedding in Marrakech
Do you want to dream of a wonderful time in Marrakech for the best day of your life?
We offer you the organization of your wedding in Marrakech which will surely delight you and your loved ones
Wedding planning in Marrakech Key themes!
we create together, the wedding of your dreams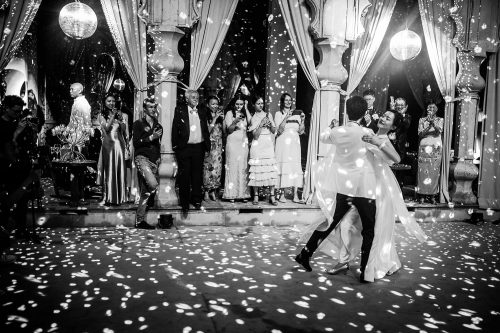 Through different themes and inspirations, we here share with you some pictures of our favorite realizations.
Most of all, we help you create a wedding that is at your image and that is created piece by piece based on your imagination and our experience.
Crown of flowers and haystacks will be in the spotlight for your big day, a bohemian and whimsical style often delight young couples. Why not rethink this theme with a Morocccan touch with simple and rustic natural materials, and Moroccan rugs ?
Surrounded by Dreamcatcher, we will fulfill your dream of a successful marriage.
You want a chic and uncluttered theme for your wedding? The crystal will bring a glamorous touch to your decor.
A delicate and romantic style, will please your guests as much as the reverberation of any light on the sparkling surface of the crystal. Nothing cheesy, just a sober and elegant decoration.
White, a timeless classic! This simple color will give a chic, understated but elegant side to your reception and the smallest detail will detonate in an immaculate setting.
White is a true value and promises a decoration of taste while remaining classic and refined.
Nuance a chic style and a Moroccan style is not a problem, just combine the colors, white and gold blend very well. It is not a question of excluding Moroccan traditions but of modernizing them. The atmosphere remains warm and radiant with a contemporary twist. Rich in colors and flavors, your wedding in Marrakech will be as majestic as it is impressive.
A very flowery style always pleases, it often mixes freshness and warm colors. You will be able to inlay any small floral detail in your decoration, from table bouquets to bridesmaids' dresses…
Looking for traditions, warmth and color? For a wedding 100% "Made in Morocco" all these elements are at the rendezvous. Going from the henna ritual to the entrance of the bride and groom on the sedan chairs, everything will be arranged for your wedding to be a magnificent spectacle for the eyes of your guests. You will delight them through food with the traditional pastilla or a delicious tajine then you will dance until the end of the night in a Riad or in a sublime place reflecting the unique character of Morocco.
You are dreaming of a ceremony to live an intimate and emotional moment ? Either the ceremony is religious or laic, we will help you picture your perfect moment and create a unique atmosphere whatever your traditions or your religion…
Warm colors, shining lanterns, a mysterious and ambered ambiance… the magic of the one thousand and one nights will amazed more than one.
The oriental atmosphere and the spectacular entertainments, like a fire juggler or a belly dancer, will almost make you feel like the carpets fly.
Nature lover or simply want to enjoy a sublime outdoor ? A wedding outside will be perfect for you. The weather in Marrakesh will let you spend a peaceful moment in the magic of a garden who will make you feel calm and serenity.
Dunes and stars as far as the eyes can see, your journey where time stops will give you the impression of being alone in the world.
Entertainments as original as authentic will ignite your day and your evening, camel rides or a henna workshop, will delight your guests.